Our profiles offer much greater depth & breadth than any of the competition.

Our unique compatibility questionnaire has over 100 provoking & revealing questions which give fascinating insights into attitudes & lifestyle. We can even rate which type of humour appeals to you!

Our biggest source of referral is from our own members - which speaks for itself.

We have a genuinely FREE membership option.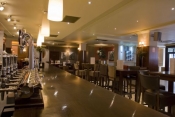 Saturday, 30 May 2015 7:30 PM  BOOK NOW

Age: 30 to 65 (men)
30 to 63 (women)

The Union Bar,
88-90 George St,
W1U 8PA

Come along and meet many like minded and single professionals at our Spring Singles Party ...
"I've found the nicest, sweetest man in the whole world and I hope with all my heart that we will both grow old and greyer! together. I wish you all possible success in finding someone as wonderful."